As anyone with an internet connection knows, Couture Week in Paris was a little over a week ago.  For many years I have followed fashion week after fashion week, experiencing it vicariously through Vogue editors and bloggers reports, occasionally posting exciting looks on twitter and more recently spamming my favorite looks from nearly every collection on tumblr.  I've decided to start compiling my favorite looks and writing up trends I am excited to be seeing on this blog, and my first attempt is here.
Some Favorite Looks
Why these four looks?  To start, I am a sucker for École Polytechnique coats, and Vauthier created three spectacular versions in varying sleeve lengths with subtle tailoring differences.  The long sleeved show-opener was my personal favorite, both of the coats and his entire collection.
It was truly challenging to pick only one look from Elie Saab's collection — the entire thing was nothing short of perfect.  Starting with the concept of a young woman traveling on holiday to India, connecting modern silhouettes and themes with timeless Indian ones.  Perhaps the best thing about Saab's collection is that the Neru collars and sari sashes do not cross into costume territories.  One of my favorite details are the beige boots and the pants tucked into them, which come as unexpected in such a loose and feminine collection, yet do not feel out of place.
Dolce & Gabbana's Alta Moda collection received a standing ovation when it debuted in Milan.  One of my longtime favorite themes in D&G's collections is their use of catholic imagery.  Crosses feature heavily in many of their lines, couture and ready-to-wear alike.  The comparative simplicity of the above look is what I like so much.  The bright contrast of black and gold, the unusual but familiar silhouette, and the dark red lipstick.  It is a vampy look that personally calls to mind what the most fashionable parallel universe version of Buffy the Vampire Slayer's Drusilla might wear.
As Dolce & Gabbana's piece reminds me of a vampire princess, Maison Valentino's is more directly referencing an elvish princess.  Barefoot with a floor length gown and decorated with bold jewelry, from literally head to toe.
Some Favorite Pieces
To hand crochet fiber as fragile as raw wheat would take enormous patience and skill — I was truly blown away when I first saw this jacket.  The motif on the back reminds me of significantly simpler woven wheat pieces in rural kitchen decor.  Shiarapelli's collection focussed on the dinner table, and the comforts of food and company.  Several pieces from Paris Couture Week referenced the attacks in November, but Shiarapelli's connection was the strongest.  In the attacks on Paris, most of those who were not at the Bataclan concert hall were in restaurants enjoying dinner.  In addition to the raw wheat fibers, Shiarapelli used china and cutlery to line the walls of the runway, and included images of vegetables and sewed antique napkins into multiple pieces (including the one above).
The Maison Margiela couture collection this spring was meant to be fun, and to poke fun at fashion itself.  The whimsical combination of the typically "tacky" imagery on the rainforest t shirt and the partially constructed dark copper short dress is supposed to leave you saying "what in the . . . ?"  One of my favorite details in the piece is how carefully the rainforest images are cut around and pieced into the other parts of the garment.   Add in fantastically surreal glitter lips on the throat created by the brilliant Pat McGrath, and you get a very entertaining presentation on the runway.  The focus on graphic and exaggerated makeup around the eyes is perhaps a nod, intentional or not, to David Bowie's iconic legacy.  I have a little more on this below.
Some Top Trends
90s
As we all expected, the 90s were a major theme on the runways this couture week, and will undoubtedly continue to appear in fall ready-to-wear shows for the next month.
As anyone keeping up with fashion news knows, the House of Dior is still functioning without a creative director after Raf Simons' departure.  In his place, two younger designers have stepped up to create this season's couture collection — no small task.
The designers relied heavily on 90s motifs like chokers, slip dresses, high waisted pants, and anklets in their collection.
Of course, the 90s were not limited to Dior's runway, they appeared in many other shows, most notably in my opinion, Armani Privé's slip dress topped gowns.  The Armani collection will no doubt be known for years as "the mauve collection" because of the plethoric use of the color throughout the collection.  But the other thing it could be known as is the slip dress collection.  While not every look included slip dress influence in the way that every look included mauve, the proportion was heavily used either as the base for an entire dress (such as the piece to the left) or as a top to a gown (the piece to the right).
The early 90s are back in streetwear, as we've seen in the rise of mom jeans, concert tees, and brown lipsticks, and it's safe to say that the 90s are here to stay in couture as well.
Bowie
The word iconic has been thrown around almost daily since the loss of David Bowie.  I think it's important to take a moment to say that this word is not being used lightly, as it often is these days.  Bowie was the first to do so much.  The first man to openly wear his kind of makeup on stage, at a time when "guyliner" was decades away.  He was also the first artist to define eras in his musical career with distinct characters and looks.
David Bowie's influence over the world of fashion is at the same time subtle and immense.  It showed itself this spring in multiple ways, and I have pulled two favorites to discuss.
On the left, a look from Maison Margiela's collection.  The look features orange-red hair styled in the punky almost-mullet, which comes directly from Bowie's Ziggy Stardust character.  Abstract and graphic makeup accentuates the eyes and lips.  And perhaps it is reaching, but the tartan covering the torso of the model may well be a nod to Bowie's British heritage.
The image on the right is from Ulyana Sergeenko's collection, which featured a variety of minaudières (impossibly small clutch bags for evening use), one of which is this small white cat wearing Bowie's classic blue and red lightening bolt makeup.  If there is only one Bowie makeup image you can recognize – it should be this one.
China Print
One unexpected trend I have seen cropping up everywhere from Etsy to high fashion lookbooks, is the use of patterns typically found on fine china.  From the classic blue and white paisley in the Balmain Pre Fall collection to the cream and red East Asian influenced pattern on Ronald van der Kemp's dress, it is an unusual use of a classic print, and one I am excited to see more of in coming fashion weeks.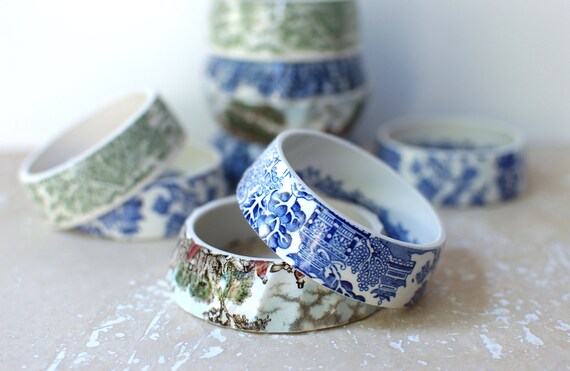 If you want to get a piece of this trend for yourself, an Etsy designer is going straight to the source of the pattern, using reclaimed vintage china to create unique ceramic jewelry.  See more at Stay Gold Mary Rose.
Wide-leg Pants
As the high-waisted trend ploughs forward unwavering, another take on the pant is joining the trend.  Starting to be seen on runways and celebrities with increasing frequency, the wide-leg, high-waisted pant requires precision tailoring to pull off flawlessly.  With the right pair of tall heels under them, they make your legs look endless and in my opinion, a wide-leg high-waist pant is one of the hottest silhouettes.
On the right, Ronald van der Kemp has created a formal version of the pant and interestingly paired it with a lumberjack plaid top and purposefully messy hair.  The contrast of the sharp, clean lines on the bottom and the punky vibes on top make for one of my favorite takes on the high-waist wide-leg pant.
On the left, Bouchra Jarrar's take on the silhouette is perhaps the best tailored pair of pants we'll see all through fashion month.  With naval inspired detailing at the waist and an immaculate fit, I am again enjoying the contrast of the relative formality of the pant with the sheer white blouse.
Sheer Tops
Seen above in Bouchra Jarrar's styling of her naval inspired wide-leg pant and to the left as a full length piece in Dior's spring couture collection, the nipple trend is obviously here to stay on runways.
Sheer tops with little to no coverage and nothing underneath have dominated runways for years now.  You might remember scrolling past this tongue-in-cheek article in your Facebook feed in 2013, referencing the prevalence of sheer tops in Spring 2014 collections worldwide, the article dubbed nipples your best accessory for the spring.
And as much as I love seeing the trend on the runway, one must admit that this is not a look that can easily be pulled off on the street.  Pairing a sheer top with a favorite bra can make for a sexy night out look, but in my opinion, by covering up you lose some of what is effortlessly cool about the way we see sheer tops styled on the runway.  But without being arrested for indecent exposure, what's a girl to do?
Square shoulder cut outs
Differing from the rounded shoulder cutouts that made their way all the way down from runway to fast fashion in the late 2000s, the square shoulder cut outs seen in recent collections cleverly combine the silhouette of the 90s turtleneck or the modern high collar with another 90s trend, off the shoulder cuts.
One of the most talked about versions of this look appeared on Kylie Jenner as she attended Vera Wang's show in the spring.  Vera Wang's ability to bring couture quality to ready-to-wear makes the coat look purposefully deconstructed in a very desirable way.  See or buy the coat here.
This couture week, Alexandre Vauthier showed his own take on the square shoulder cut outs in a chic-but-punk rocker dress.  It gives the dress the edge that it needs to stand out as more than your average little black dress.
I'm a big fan of this trend, and am looking forward to seeing more takes on it.  I do have concerns that like its rounded predecessor it could become overdone.  As Lagerfeld famously said, "trendy is the last stage before tacky."
♛
With couture week past, one of the biggest trends that will no doubt continue through ready-to-wear season is Star Wars inspired collections.  In face, I have already pulled so many looks for this topic in just two weeks of fashion, that I am going to put it in a separate post once fashion month comes to close.